In 2016 I met a family on the verge of great change. After months of connecting, I was asked to go with them to visit their dying grandmother hours before her transition through the veil. We sang and we prayed and the memory was deeply imprinted. This collection was commissioned and these paintings were conceived as a memorial to the the life and ascension of their beloved grandmother. While designing and painting this collection, my own grandmother also found her way to heaven, which deepened my understanding of this art form. Truly these paintings marked a crossroads in my life where art was the only reflection that provided the space I wanted and the time I needed to integrate and heal.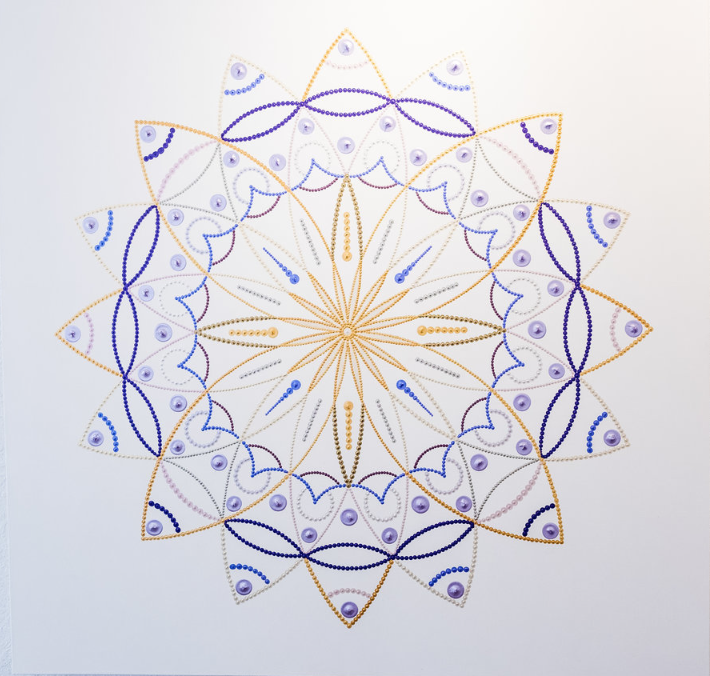 When a client of mine has a relationship with Jesus, it is easy for me to pray the essence of love that I feel when focusing on Christ Consciousness within all life. This paintings simulates a golden cross with twelve petals between the cardinal directions. With a compass rose and imagination, this painting is designed to show the moment after death when the soul is received by the angels, ascended masters, and ancestors who are beyond the veil.
This painting in particular was designed to embody the grace of the Virgin Mary. The patrons who commissioned this work, and their grandmother, followed the path of the Rose, holding devotion to the mother who is called the Queen of the Angels.
The geometry of this painting is a visual representation of the balance between masculine and feminine energies. Thirteen circles lay the foundation of the divine feminine, connected from center to center, creating the seventy eight lines of the sacred masculine. With a womb black background and a rainbow of metallic and iridescent paint create a homage to the vehicle of the light spirit body.